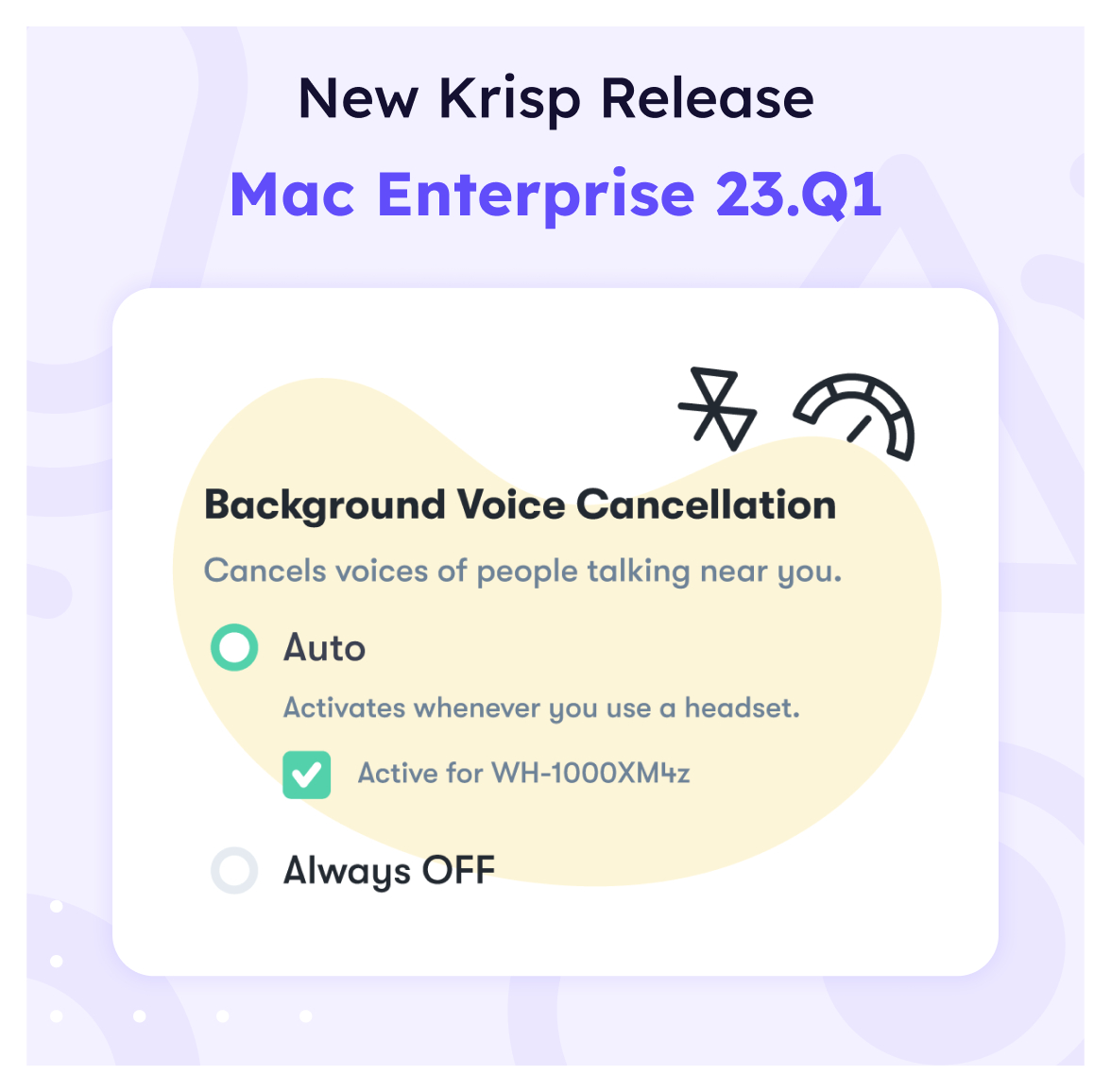 DATE:

AUTHOR:

The Krisp team
Krisp Mac Enterprise version 23.Q1
DATE:
AUTHOR: The Krisp team
This release brings new features, improvements, and bug fixes to the Mac Enterprise version of Krisp app.
Features
Background Voice Cancellation
This release brings Background Voice Cancellation to Mac Enterprise track users thus drastically improving your online calling experience. This breakthrough audio technology detects and cancels not only the noise but also all other nearby human voices, resulting in only the primary speaker's voice in the conversation. No lengthy setups are needed - you only need to wear a headset, toggle Krisp ON, and bring extra voice clarity to your calls.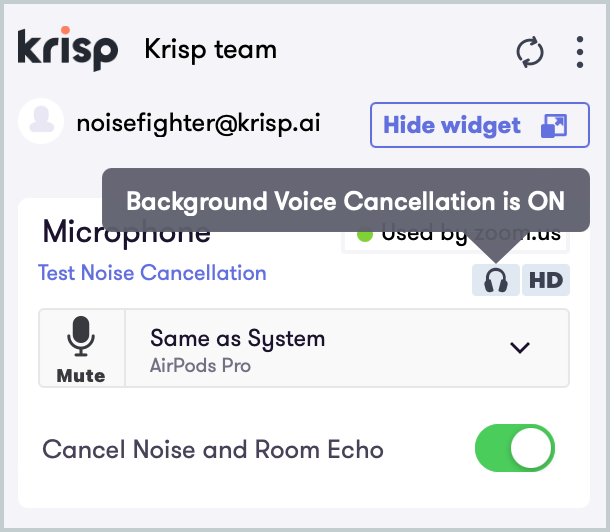 You will get a notification when the Background Voice Cancellation is ON at the call start canceling both the noises and others' voices or activates during the call when a compatible device is selected in Krisp.
Read more about the benefits of Background Voice Cancellation here.
Improvements
Krisp will now give you a visual hint after the system wake that the app is detecting your physical devices. Once done, the banner will disappear and the device dropdown list will show the available physical microphones and speakers.
Bug fixes
We fixed the cases when Krisp would freeze after a period of device inactivity while causing high CPU usage.

We also fixed the case when Krisp widget would freeze on the screen, passing no audio stream to the communication apps while causing high CPU usage.

Krisp now works with the BOAT headsets.

This release patches a problem occurring on Ventura OS. Now the other call participants shouldn't have trouble hearing you if you switch the microphone selected in Krisp from the built-in to your headset during the call.

Krisp tooltips on Ventura OS won't invert or overlap if you hover the mouse over them a few times.

The version solves the issue when Krisp would hang if starting a call directly after waking the device up.

We fixed the cases where the app behavior wouldn't correspond to the state of the "Launch Krisp at system startup" setting.

You will no longer see multiple Krisp windows in the list of screen options when sharing your screen through Zoom or other calling applications.

You won't see multiple Krisp icons in the Dock after a system restart anymore.

We fixed the problem of not hearing others or not being heard at call start.

Now the audio stream won't be restarted during a call if the system default device is changed while the microphone selected in Krisp is "Same as system".

The microphone or speaker audio will not have disruption if the used physical device is unplugged and replugged during a call.

We also fixed the case when the Sign Out notification would appear at the wrong time.