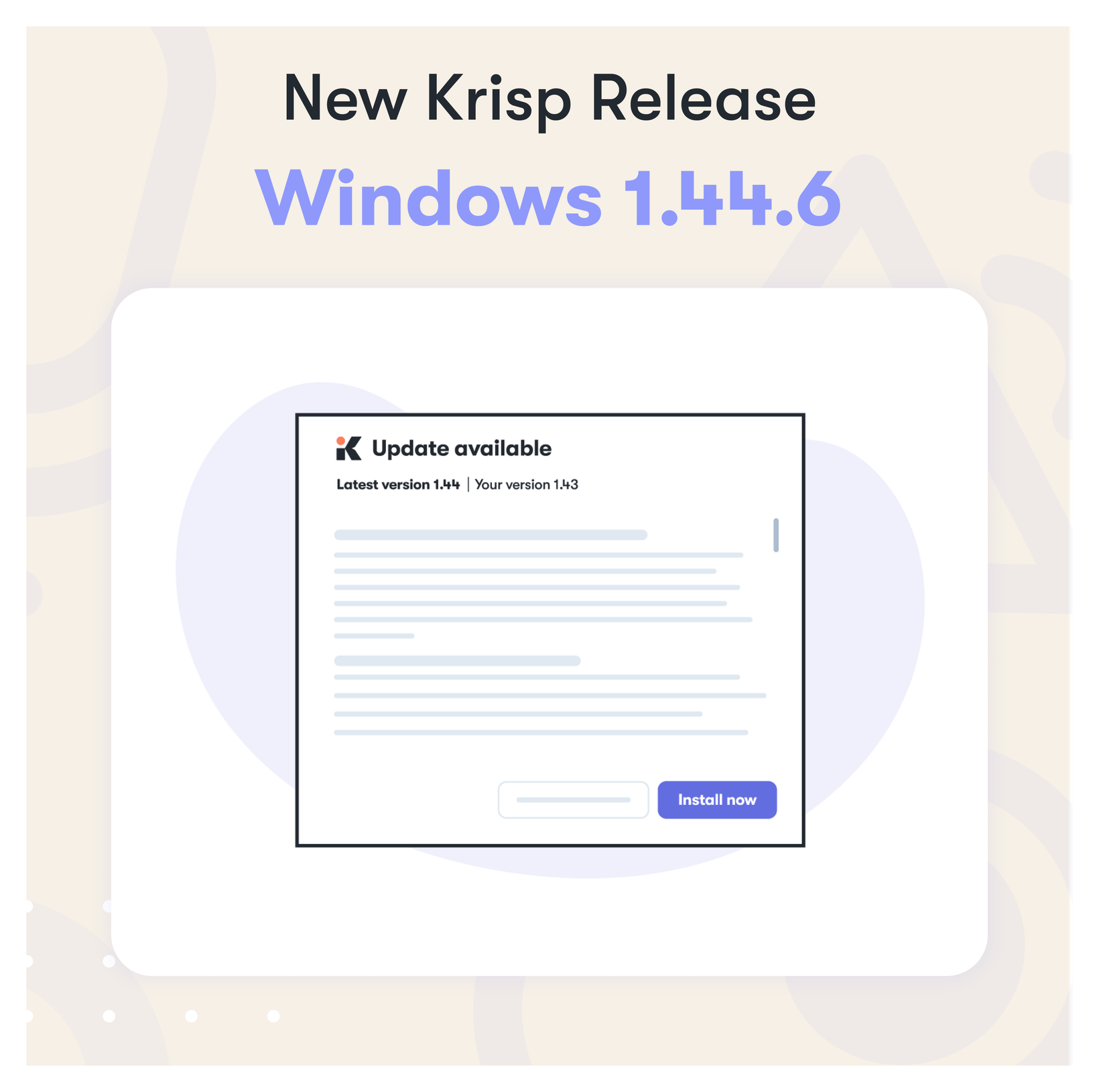 DATE:

AUTHOR:

The Krisp team
Win 1.44.6 - Notification for new Krisp versions
DATE:
AUTHOR: The Krisp team
This release allows the team admins to set a delay for the Krisp Speaker Noise Cancellation, brings updates to the Krisp update flows, and introduces more improvements and bug fixes for a better Krisp experience.
Features
Configurable delay for Krisp Speaker Noise Cancellation
Now Business and Enterprise admins can configure a 5 to 30-second delay for Krisp Speaker Noise Cancellation at the start of each call. This will allow the users to hear the ringtones and sounds present in the other call participants' environment at the beginning of the call before the noise starts to be canceled.
The Krisp Speaker will be toggled OFF during the delay and automatically turned ON after that period.

Notification for new Krisp versions
After this release, you will get a pop-up notification whenever a new Krisp version is available. You will be able to update the app directly from the pop-up to make sure you get the latest features and improvements to have the best possible experience with Krisp.
This also makes the update process much faster and smoother, ensuring your experience is not interrupted because of lengthy download and installation flow.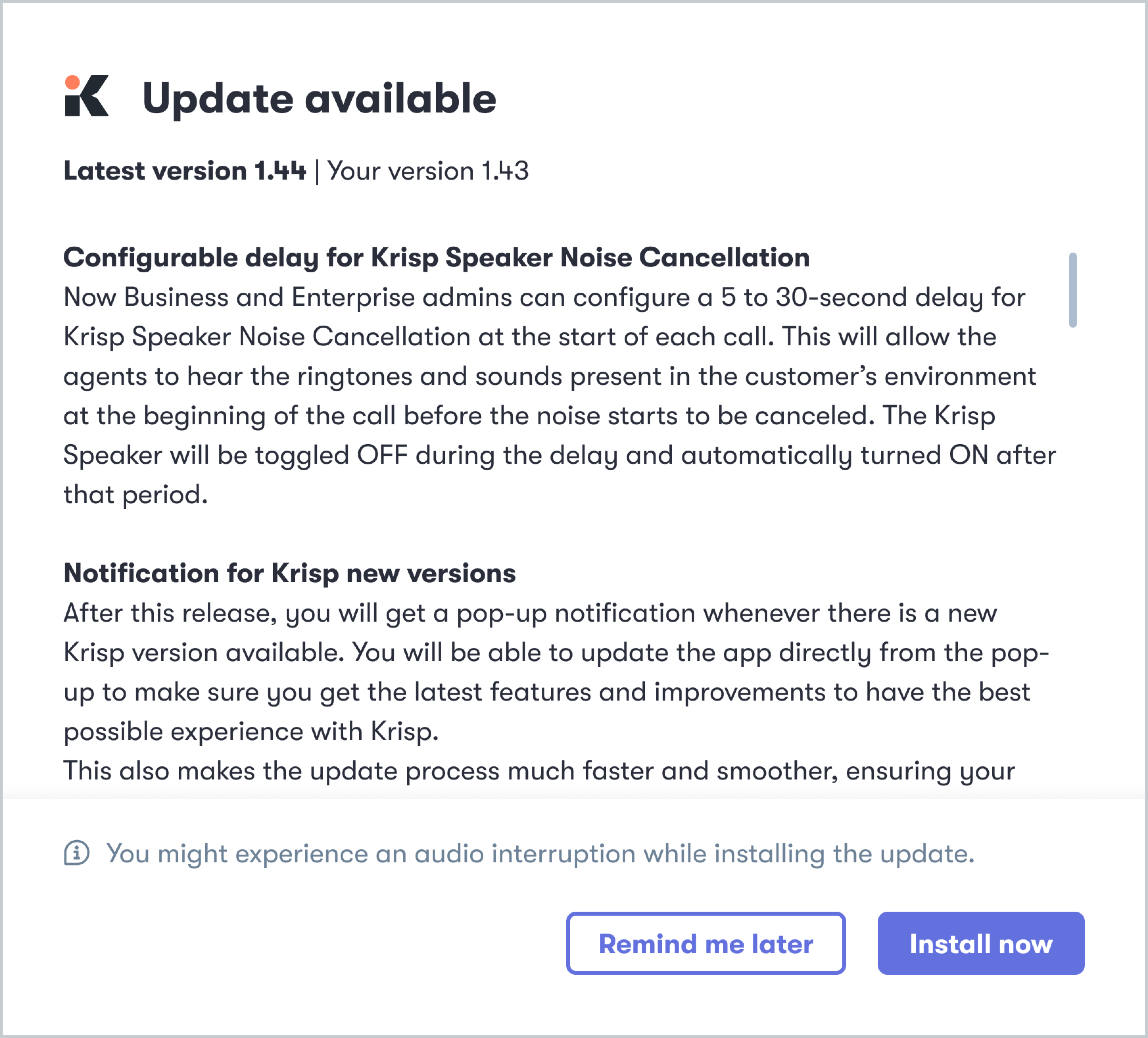 Share Krisp with others
You can easily share Krisp with others to help them get rid of background noise thus upgrading their call experience and having more productive and professional meetings.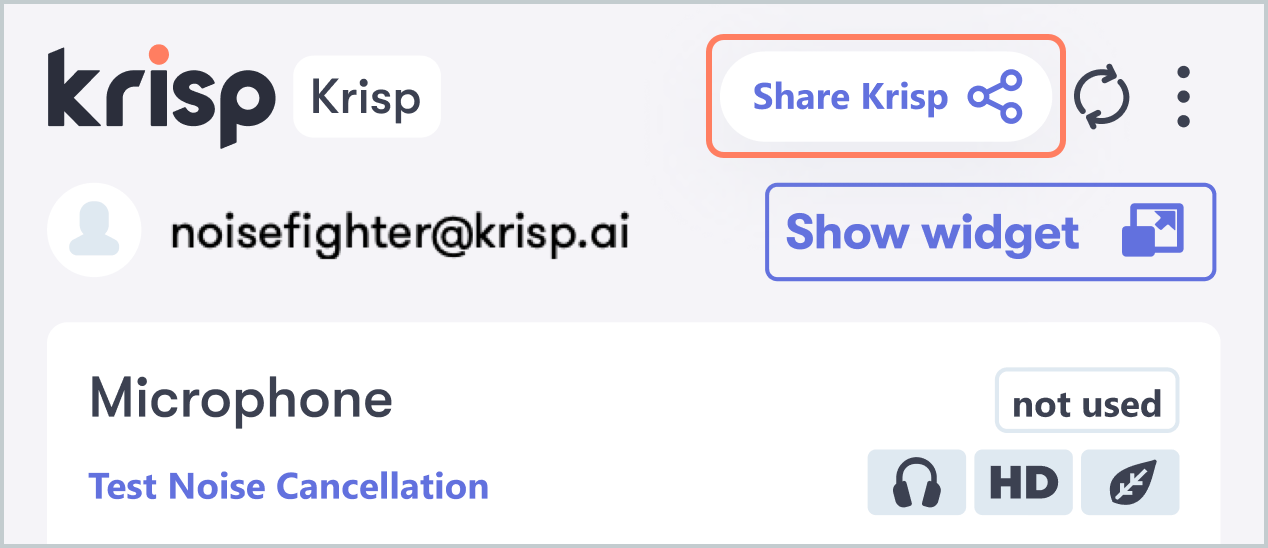 Improvements and bug fixes
Now the Noise Cancellation modes will ensure you get the best possible noise cancellation quality no matter which option you select. In the meantime, the quality of your voice will be kept at the top level depending on the capacity of your microphone or your headset.

The Noise Cancellation mode adjustments that happen during a call will be kept at the next call start to assure you get the best possible noise cancellation at any moment.

The intensity of noise detected during the calls depicted in the Call Summary will now be categorized with more accuracy.

Krisp will now consume less energy while assuring you are having noiseless calls.

We fixed the cases when Noise Cancellation could stop when Windows falsely detected the microphone as muted on system level.

We have also fixed the cases when the system list of playback devices accessed from the taskbar, as well as the microphone and speaker dropdown lists inside the Krisp app, would start flashing while using certain Bluetooth or USB devices.